THE SOLUTION HUB FOR PLASTIC AND RUBBER COMPONENTS
One Industry All Solution
10 Long Years Of Manufacturing Excellence With Quality At It's Best!
Established in 2011, KIRIT Auto Industries is a leading MFRS and exporter of a complete range of Plastic & Rubber Components, Auto & Tractor Parts, Rubber O-Ring. Under the brand name of KIRIT Auto Industries, we have carved out a significant presence in the domain of Plastic & Rubber manufacturing. We, KIRIT AUTO INDUSTRIES have directed all our endeavors in making sure that our manufacturing and rubber as well as plastic processing facility is technically stable and sound. 
Timely deliveries & competitive pricing have enabled us to build a large client base across India. Leveraging on our strengths, we are engaged in offering a technically sound design for moulds as per the client's requirement. Further, the R & D efforts by us make our product not only economical but also technically competent. Our products help our clients to manufacture parts which are highly productive and economical.
We are the Industry heads and produce the most reliable and trendy solution you are looking for.
"Motto of KIRIT Auto Industries (An ISO 9001:2015 Certified Company) is to strive hard to attain customer satisfaction by ensuring timely delivery of world class products at very reasonable prices" Kirit Auto Industries is a best Rubber Industries in Gurgaon.
Our vision is to be the leader in the field of plastic and rubber parts industries through constant growth and innovation which will be achieved by putting every effort and demonstrating our excelling performance to became a well-organized supplier for the growth and satisfaction of ours customers.
To supply the rubber and plastic parts for our valuable customers with their expectations by pursuing excellence in product quality and to satisfy their needs and requirements by supplying on time with high-quality services. We focus on maintaining a reliable relation within the network and will be passionate and accountable to our customers by providing cost-effective superior technology for working to generate positive energy. KIRIT Auto Industries is a best Rubber Industries in Gurgaon.
The only place where you'll get the perfect solution for all your industry needs.
We have laid down, ACCEPTABLE QUALITY LEVELS (AQL) for Each Product. Each item undergoes a 100% Screening and are Packed with Screened Labels for Shipment. Items will be Packed in Standard Packing Quantity (SPQ) of 100, 500, 1000… As Per Customer Specifications / Requirements.
KIRIT AUTO INDUSTRIES manufactures a comprehensive array of flanged bushes and shoulder washers, with standard Imperial and Metric sizes available ex stock and quick delivery on non-standard sizes.
Plastic washers can offer a range of benefits apart from providing spacing and load distribution between components. They can resist corrosion, allow for easy loosening and tightening of screws and bolts, and help protect surfaces when a non-metal washer is needed.
O rings are used to block a path which may otherwise allow a liquid or a gas to escape. The o ring is placed into a groove to secure them in place, and then compressed between two surfaces. 
KIRIT AUTO INDUSTRIES's O-ring Kits offer convenience and easy use, making them the ideal solution for maintenance applications. These kits are effective tools in reducing costs for maintenance and assembly staff by eliminating the guess-work in part selection and saving time in part sorting.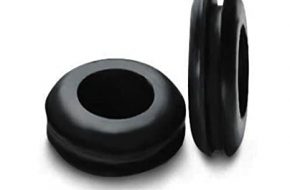 A grommet is a ring inserted into a hole through a thin material, used to prevent tearing or to cover the sharp edges of the pierced material. We manufacture Rubber Grommets of different shapes & sizes made from a variety of rubber grades like Neoprene, Nitrile, Silicone, EPDM, FKM, or Natural Rubber.
A dust cap is a small cover used on the valve stem of a bicycle or car tire to prevent dust or other small particles from entering the valve and damaging it. The dust cap also forms a pressure seal, helping to prevent deflation of the tire due to slight gas seepage past the tire valve.
Be a part of KIRIT Auto Industries click here.